Immortelle is widely valued in today's anti-age cosmetics as a magical flower whose power lies in smoothing wrinkles, removing scars and soothing hyperpigmentation spots and other signs of skin aging. But, the healing properties of immortelle have been known since ancient times.
This miraculous Mediterranean herb is mentioned in Greek myths and the name helichrysum itself comes from the Greek words helios (sun) and chryson (golden). It has exceptional endurance and strength, and thrives on desolate rocky and sandy ground. Because of its yellow flower that does not wither even when harvested, immortelle is rightly called immortelle – immortal or eternal.
GOLD FROM THE NATURE
In addition to the color of the flower, there is another reason why immortelle is compared to gold – its oil is extremely valuable. For one liter of oil, it is necessary to harvest as much as 700-1000 kilograms of immortelle!
Immortelle blooms in the summer months and its fresh flowers are processed immediately – up to 24 hours after harvest (in our case it's within 12 hours). Drying is followed by steam distillation in order to obtain essential oil – a powerful ingredient used in serums, creams and other skincare products.
During the immortelle distillation process a very interesting subproduct is made – hydrolate. It is also known as flower water, has a strong skin healing effect and is often used as a tonic. Macerateis obtained in a special process of dipping fresh or dried immortelle flowers in vegetable oil that extracts valuable ingredients from them.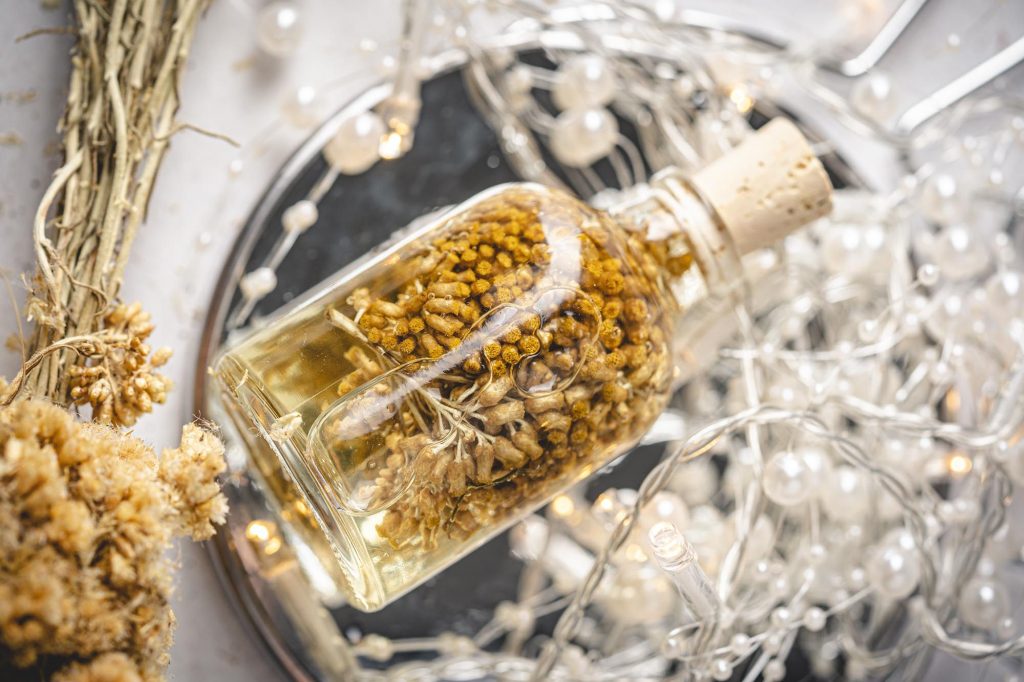 MODEST FLOWERS OF PRECIOUS QUALITIES
In traditional herbalism immortelle has been used to treat asthma, migraines, liver problems and skin diseases. Due to its properties, this herb is an antispasmodic, mucolytic, analgesic and anticoagulant. It also has a regenerative, anti-inflammatory and antioxidant effect, lowers cholesterol and stimulates hepatocytes.
There are many products on the market that contain immortelle in various forms, the most popular being skin care products.
KuSshh line of natural products contains a wealth of hand-picked immortelle from our own plantation on the island of Krk. Let's mention some of them: face cream nourishes the skin and restores its natural glow, face oil booster provides vitality, protection and hydration, while micellar water gently cleanses the skin and removes traces of makeup.
Be sure to check out our other immortelle-based products.
Enjoy the scents of tiSshhine!